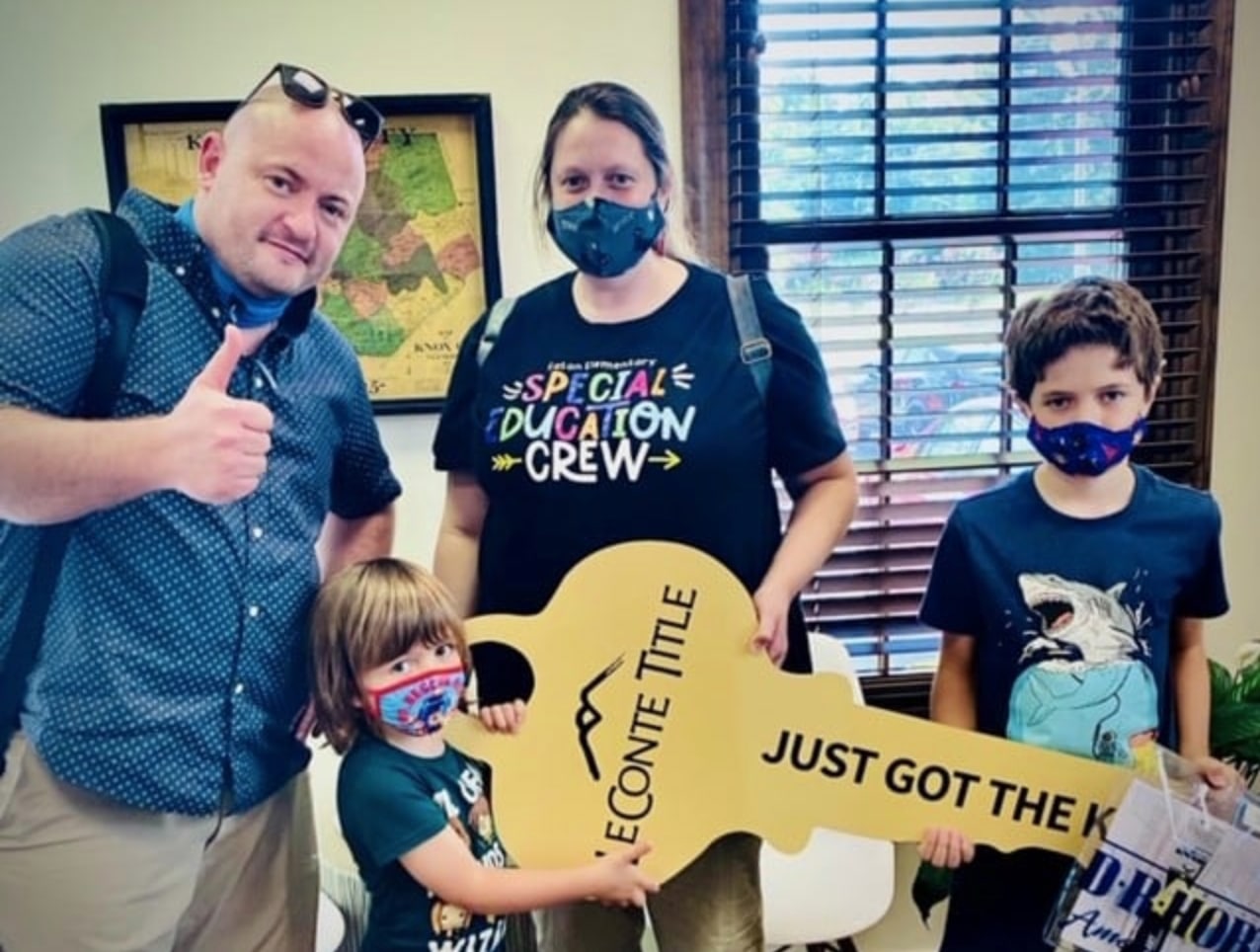 Monday ~ Friday
8:30 am ~ 5:00 pm
Call Today
865.934.4032

300 Montvue
Knoxville, TN 37919
Behind West Town Mall
Attorney-Owned and Operated means your transaction is conducted at the highest level of professionalism. Representation of America's Largest Homebuilder means you're the beneficiary of proven systems and efficiencies.
Realtor-centered Processes and Support
Sophisticated Legal Counsel for Title Transactions
Convenient Location & Parking
Friendly, Supportive Staff 
Realtor Joint Marketing Support

LeConte Title represents the nation's largest home-builder, and is solely responsible for all of their Knoxville-area transactions and beyond. Our reputation for solving "impossible" title issues has garnered a loyal following of distinguished realtors and developers who trust us to reflect their high standards.

We closed 1,000+ title transactions in 2021, which includes many repeat clients. We invite you to meet us, and believe we'll earn your valued trust and hard-earned business. We know each closing is the most important one to our customers, and our success depends on the success of each and every transaction.

 I wasn't sure what to expect at my closing but was immediately put at ease when I arrived at LeConte Title. I was warmly greeted and treated with kindness and respect throughout the entire process. The staff was incredibly efficient and professional but never made me feel rushed. They understood that buying my first home was a big deal to me and they made sure I understood everything. I highly recommend them and cannot imagine any better service, anywhere!

Our bank uses Mark Williams in a number of areas ~ real estate closings, trademarking registrations and general corporate counsel. I have found Mark and his entire team to operate with speed, integrity and fairness.
I consider them a "go-to" partner for my organization and would recommend them highly.

For almost 30 years Mark Williams has been engaged as our corporate counsel. During this time we have called on Mark and the staff at Young, Williams & Theiss for guidance in many areas, including seven acquisitions and most recently with the transaction to sell our company. Mark has always brought a business perspective to our legal matters in a way that served all parties fairly while protecting our legal position.
Young, Williams & Theiss has significantly contributed to our company's success.
OUR PROMISE
LeConte Title is dedicated to meeting all of your real estate needs in a personal, professional manner. We strive to be proactive, efficient, responsive, and friendly. Our goal is to make your transaction as stress-free as possible.
OUR STORY
LeConte Title was formed as an extension of legal work conducted by Young, Williams & Ward Law Firm of Knoxville. The law firm, which traces its origin to 1915, provides sophisticated legal services to business clients. Through the course of buying and selling businesses and properties for its clients, attorneys were often engaged with complex title insurance issues. To ensure their clients received the highest quality service and product with their title insurance, the firm founded LeConte Title.
The formation of LeConte Title allows the attorney-owned insurance company to oversee property transactions, ensuring the highest quality title product. Today, the title company's reputation for solving "impossible" title problems has garnered a loyal following of clients, including residential home buyers, sellers, and builders. In addition, LeConte Title proudly represents the nation's largest home-builder, and is solely responsible for closing all of their Knoxville-area transactions.
WE LOVE REALTORS
We are particularly attuned to the needs of realtors. We designed our processes, technologies, and staffing around realtors' unique needs. Our mission is to provide proactive support, with obsessive, detail-oriented service that allows the hard work of our realtor clients to shine. Closings are serious business, but they are also celebrations! We strive for each buyer and seller to have a warm and positive experience that reflects positively upon the realtors involved. Our goal is to ensure a smooth transaction, resulting in content and impressed sellers and buyers who will return to their realtor and to us for future purchases. Our philosophy is that our success largely depends upon the success and earned trust of our realtor clients. There is simply nothing more important to us than the relationships we build with our realtor friends and clients.
A HIGHER LEVEL OF SERVICE
Call LeConte Title Today
865.934-4032